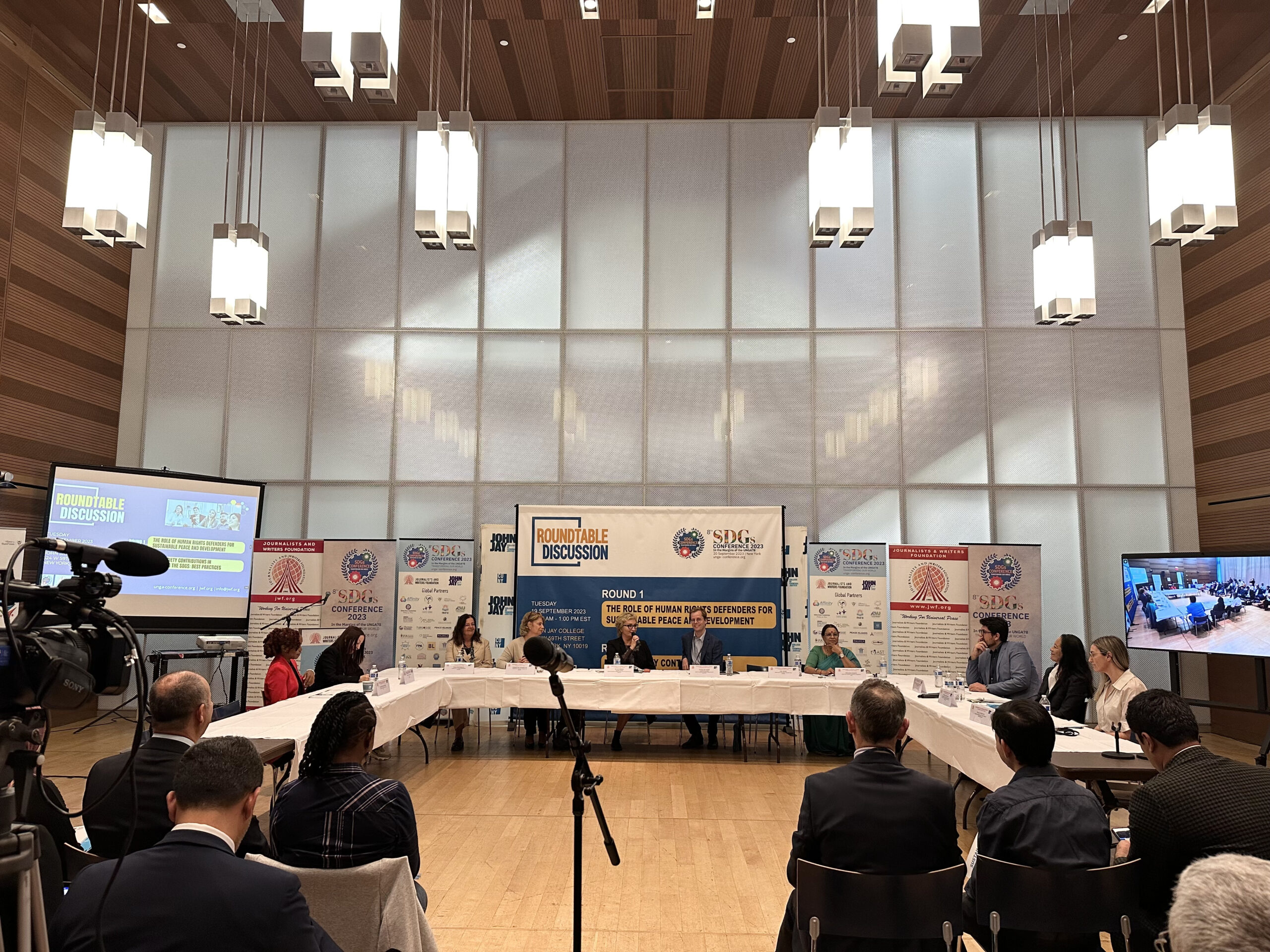 The importance of global partnerships to achieve the SDGs by the 2030 Deadline
In the week of 18th of September, the Intercultural Dialogue Platform (IDP) attended the 2-day conference entitled "SDGs Conference 2023: In the Margins of the UNGA 78", organised by the Journalists and Writers Foundation at the John Jay College in New York. The event brought together over 52 global partners, including IDP, and more than 250 in situ and 1000 online participants from more than 27 countries around the globe to discuss contemporary impediments to the timely and effective implementation of the Sustainable Development Goals (SDGs).
In 2015, the United Nations introduced the 17 Sustainable Development Goals as a roadmap for securing lasting peace, well-being, and prosperity for humanity by 2030. As we find ourselves in 2023, we are at the midpoint of this journey, offering an opportunity to pause and assess advancements in reaching these objectives. Regrettably, a candid assessment thus far reveals that there is still a considerable distance to cover. The obstacles to realising the SDGs are substantial, encompassing issues such as environmental degradation, conflict, setbacks of press freedom and human rights, and the global backsliding of democracy and the rise of autocratic regimes, to cite but a few. "What we are experiencing now is a collective failure. […] This collective failure will impact every country, but the burden falls most heavily on developing countries and the world's poorest and most vulnerable people." Abualzulof, senior human rights advisor for the UN Development Coordination Office, said. 
But hope can be found in civil society, researchers, human rights defenders, and many professionals' renewed partnerships and commitment to promoting peace, harmony and sustainable development. Rightfully the president of the Journalist and Writers Foundation, Mehmet Kilic, opened the conference with this dedication: "It is essential for us to remain engaged and committed to the values and goals that unite us as a global community. We can overcome even the most daunting challenges and obstacles when the world comes together. But no one can achieve anything alone." At the heart of the conference lay the unwavering commitment of JWF to achieve SDG 17: Partnerships for the Goals, acknowledging that achieving SDGs depends on strong global partnerships and collaborative efforts. IDP is delighted to have cultivated new connections and reignited meaningful partnerships throughout this event.
The conference progress: "SDGs Conference 2023: In the Margins of the UNGA 78"
The conference included a two-phase roundtable on September 19, followed by three separate panel discussions on September 20, each dedicated to addressing various obstacles that need to be addressed to fulfil the commitments of the SDGs. 
On the first day of the conference, September 19, 2023, experts from 15 countries participated in a 2-session Roundtable Discussion on the role of human rights defenders for sustainable peace and development and civil society best practices. In the second session of the day, our colleague Ludmila Malai urged policymakers and civil society to include youth truly and fully in decision-making to realise sustainable societies. She said in her own words: "We must stop assuming that young people are inexperienced and using this as an excuse to exclude them from decision-making processes."
On the conference's second day, which took place on Wednesday, September 20, 2023, three distinct panels explored various aspects of sustainable development. The first panel, titled 'Panel 1: Building a New Momentum towards the 2030 Deadline for the SDGs,' was followed by 'Panel 2: Press Freedom as an Instrument to Defend Human Rights for All,' with the valuable contribution of IDPs guest, human rights lawyer Johan Heymans, and finally, 'Panel 3: Widening Gap between Erosion of Democracy and Rise of Autocracy'. During the discussion, panellists delved into the challenges we face and the solutions to achieve the 2030 deadline. They also addressed the increasing threat of autocratic regimes and their impact on SDG attainment. The rise of autocracy in recent years poses a significant risk to the progress made, albeit limited. Panellists emphasised that these democratic values of freedom are crucial for achieving SDGs, as they create a thriving, open culture capable of critically assessing policies' impact on society. Panellist Patricia Garcia of Australia's Institute for Economics showed that countries with well-functioning governments, equitable distribution of resources, free media and free flow of information, and low corruption achieve both positive peace (SDG 16) and better results on the other SDGs. Journalists play a key role in assessing policies' impact on society and advancing human rights. Human right lawyer Johan Heymans, managing partner at Van Steenbrugge Advocaten, also reflected on the capital, and often forgotten, role judges must play to uphold human rights and the rule of law. Together they are the watchdogs of society. Promoting strong democratic institutions with respect for free media is fundamental to achieving sustainable peace and development. As Naseer A. Faiq, charge d'affaires of the Permanent Mission of Afghanistan to the UN, pointed out: "The rise of autocracies poses a formidable challenge to a global order based on democratic values," he added. "The international community must stand united and maintain its commitment to defending democracy, human rights, and the rule of law, not just when it is convenient, but especially when these principles are under threat." 
How does IDP contribute to the 2030 Agenda?
The conference provided an inspiring and informative platform that renewed IDPs dedication and commitment to fostering democracy, peace, and harmonious living. As a European civil society organisation, IDP remains steadfast in upholding human rights and sustainable development principles. Our initiatives are aimed at contributing to the achievement of the UN Sustainable Development Goals. That's why we have established global partnerships with the Journalists and Writers Foundation at the SDGs Conference 2023.
Through our ongoing project, Citizen Z, IDP actively promotes democratic values by nurturing deliberative skills among young individuals in four European countries. Additionally, our project PROTONE focuses on safeguarding the fundamental human right of freedom of religion by protecting places of worship and fostering social peace through interfaith dialogue.