Are you a young person aged 18-25 who wants to make a difference in society? Do you want to be part of shaping the future of democracy, education, climate action, employment, and other important issues in Europe? If so, we invite you to join the Youth Advocacy Team of the Citizen Z project.
Core Values of the Hizmet Movement outlines 12 values common to Hizmet participants and pursued by Hizmet-oriented organizations. Although these values have existed in the movement for decades, the new document concisely codifies the tenets that have appeared in the movement's inspirational documents, discourse, and activities.
Intercultural Dialogue Platform (IDP) is a Brussels based non-profit civil society organisation, aiming at mutual understanding and harmonious interaction among people of different cultural backgrounds.
Values
A society where universal values are shared, cooperation is cherished, and people live in peace and harmony.
Dialogue
Citizenship and engagement

Intercultural Understanding

Inter-faith dialogue
Social Projects
Social Inclusion
Prevention of Radicalism
Combating Intolerance
Gender Equality
Hizmet
 is a civil society movement committed to peaceful coexistence and service to humanity based on social responsibility and philanthropy.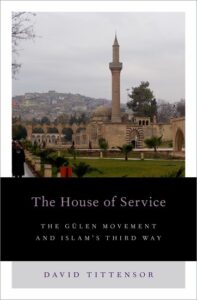 "The House of Service: The Gülen Movement and Islam's Third Way"
David Tittensor

David Tittensor offers a groundbreaking new perspective on the Gülen movement, a Turkish Muslim educational activist network that emerged in the 1960s and has grown into…
The Civil Society Outreach Unit of the European Parliament, together with InfoHub at the European Parliament in Brussels, co-hosted the second edition of Deliberative Democracy Days, a pivotal event under the ambit of the two-year EU-funded Citizen Z project...